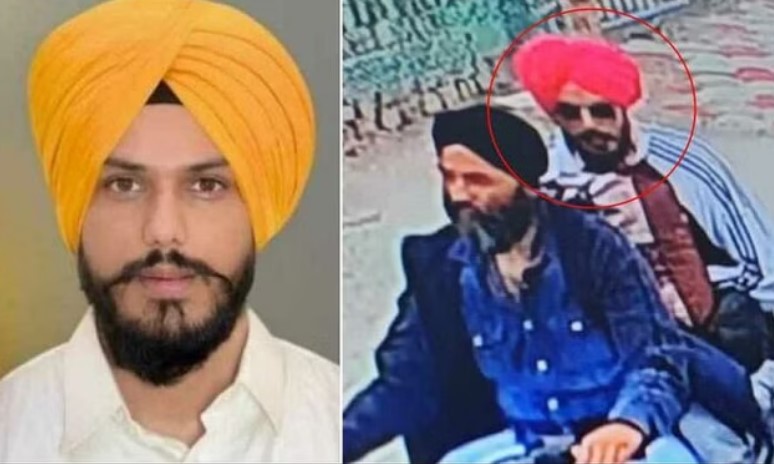 The Punjab Police claims that when they surrounded the convoy of Amritpal Singh's vehicles at Mahitpur in Jalandhar, he was traveling in the third vehicle. When he turned the car towards the link road, we followed him for 25 kms, but could not touch him…. Questions are being raised on the claim of Amritpal's escape in such tight security. On Tuesday, the Punjab and Haryana High Court had also reprimanded the Punjab Police that despite having a police force of 80,000, how did it escape?
On the other hand, the people of Mahitpur say that Amritpal never reached here. The police only surrounded the convoy of vehicles of Amritpal Singh's supporters. It was 11.58 am in Mahitpur on March 18. Endeavor vehicles coming from Shahkot Marg at high speed take a turn towards Jagraon one lane before. It is a small market street, which is only 15 feet wide. An Innova comes in front of the Endeavor vehicles, due to which the vehicles stop and a young man gets down and runs away.
Another photo of Amritpal's escape came to the fore.
He goes to a house and hides in the bathroom. Police arrests five people from these vehicles, but Amritpal Singh is not there. The sixth is also taken out of the house by the policemen and arrested. Neither Amritpal Singh was in these vehicles, nor is the street wide enough to turn the Mercedes back from here.
Gurdwara Sahib at Nangal Ambia from where Amritpal Singh was last seen leaving on a bike
Now the question arises that if Amritpal Singh did not come to Mahitpur then where did he go? Jalandhar DIG Swapna Sharma claims we chased him for 25 kms, but he got away. Amritpal Singh's last location is being claimed to be in village Nangal Ambian and the Granthi of Gurudwara Sahib situated there in Nikke Nangal complained to the police that Amritpal Singh had forcibly stayed with him here. If Amritpal Singh had stayed at Gurudwara Sahib, then why didn't any resident of the village see him.
A Dr. Sukhwinder in the village says that I have been running the clinic here for 30 years, when Amritpal came to the village, we came to know the next day. Granthi did not tell any villager or sarpanch, he directly told the police. Police is saying that Amritpal stayed here. The place where we are talking about village Nangal Ambian, there is a population around the Gurughar. Nearby is a statue of Kabaddi player Sandeep Nangal Ambia. There is movement of people. The Guru Ghar of village Nangal Ambian is locked. The langar hall is also locked. There is a police guard in plain clothes.