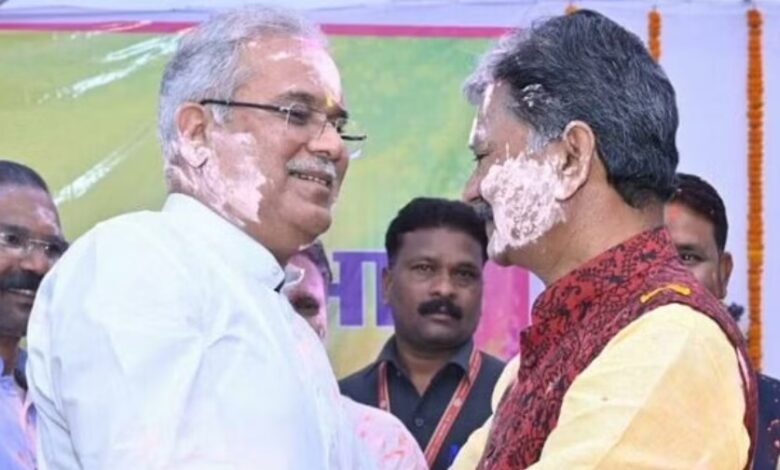 The current Bhupesh Baghel government of Chhattisgarh presented its last budget on Monday. When the upheaval regarding the budget, which has been going on for many days, subsided, then the enthusiasm of Holi increased. After presenting the budget, Chief Minister Bhupesh Baghel reached the Holi Milan function. There, when he applied gulal to the Speaker of the Assembly, Dr. Charan Das Mahant, the MLAs danced fiercely by singing Fag.
Chief Minister Bhupesh Baghel and Assembly Speaker Dr. Charan Das Mahant participated in the 'Holi Milan Ceremony' organized by the MLA's Club and Culture Department in the Assembly premises.
Extending hearty greetings to all the people present on the festival of colors, Holi, the Chief Minister applied colors of Abir and Gulal to them.
Parliamentary Secretary and MLAs added color to Holi by giving a spectacular presentation of Phag song and dance at the Holi Milan ceremony amid sprinkles of colors and gulal.
On this occasion Member of Parliament Jyotsna Mahant, Women and Child Development Minister Anila Bhendia, Parliamentary Secretary Vikas Upadhyay, Chandradev Rai, U.D. Minj, Kunwar Singh Nishad, Ambika Singhdev and officers and employees of the Chhattisgarh Legislative Assembly and others were present in large numbers.