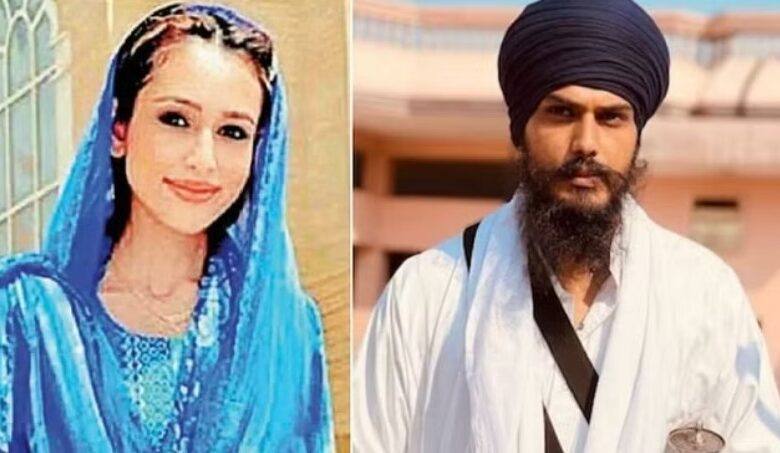 Waris Punjab De Sangathan Till now security agencies have not been able to find any clue of the chief Amritpal. He is feared to have fled the country. Meanwhile, his wife Kirandeep Kaur kept her side in conversation with the media on Monday. Kirandeep said that he does not know where Amritpal is now. He had no contact with Amritpal for a long time. If he is with the police, he should be produced. I have left my job and family for Amritpal. Now I will not leave her in this condition.
Describing Amritpal as innocent, Kirandeep Kaur said that his first choice is the promotion of Sikhism, I am his second choice. He gives priority to the work of his organization and religious propaganda. Has been raising voice for religion and people of Punjab. He used to put his videos on social media, which I saw and heard. It was through social media that I came in contact with him but had no idea then that we would get married.
I met him for the first time on Instagram. I used to see his posts and videos but never shared. I am spiritual minded. I do not take non-veg and do not drink. Amritpal liked these things of mine. Although I am not religious like Amritpal. Still he married me. My family never opposed it.
Kirandeep told that his grandfather had gone to UK in 1951. Since then his family is living there. He said that my family is not a family of Sikh preachers. Like other Sikh families, she used to attend Gurdwara Sahib in UK. I started going to Gurdwara Sahib at the age of 12. I did not go to any program with Amritpal, nor did Amritpal want to take me. He wanted that no one should identify me with Amritpal's name, so that no problem would arise in future. We had not even decided that we would always remain in Punjab.
the allegations against me are wrong
Whatever illegal association is being made with me, all those allegations are wrong. I have been living here for two months. I didn't do anything illegal. Now this is my home. After six months I will go to UK. If Amritpal also agrees then it is fine, otherwise I will come back to India, which Amritpal calls reverse immigration, we will prove it right.