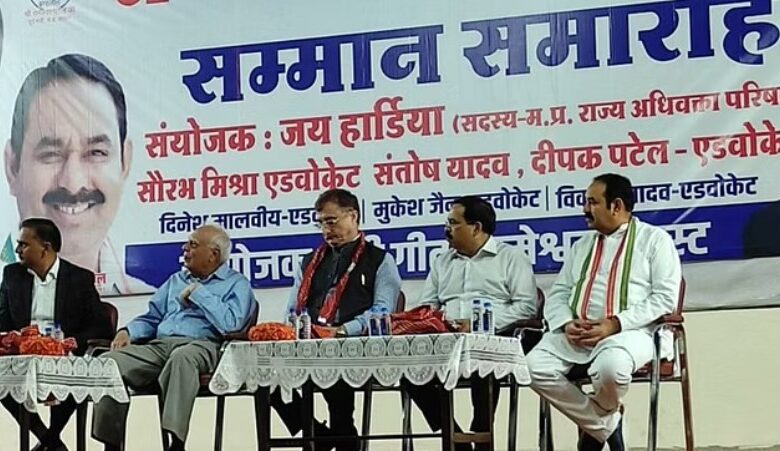 A seminar and advocate felicitation ceremony was organized by Shri Geeta Rameshwaram Trust in Indore. On this occasion, Rajya Sabha member Vivek Tankha said that the lawyer class should get importance in the ticket in this election. Whenever the importance of lawyers decreased, the Congress weakened. If the lawyers are determined, they have the power to change the government.
Tankha said that the country is passing through a crisis. Countrymen are losing faith in institutions like CBI, ED. Lawyers should raise their voice against what is happening in the country. No one writes CR of lawyers. They don't need to be afraid. Lawyers have to become the soldiers of justice and stop the forces which are hollowing out the country. Rahul Gandhi did not say anything, yet he was punished. Some people in the country lie. It is our responsibility to punish them too.
The country is silent even after toppling the elected governments
Rajya Sabha member Kapil Sibal said that the Prime Minister goes to BJP-ruled states and says that there is a double engine government, but in reality there is a double barrel government in those states. False cases are being filed. Elected governments are being toppled. Still the country is silent. When petitions are filed in the court, the court also remains silent. The country now needs to stand up against injustice.
Same Pitroda said that today the government is using institutions like ED, CBI, University, media according to its own. This is a worrying situation for the countrymen. At such times, lawyers have to play their rightful role. Mahatma Gandhi was also a lawyer, he took a pledge to liberate the country and fulfilled it. Lawyers have to recognize their strength. MLA Jitu Patwari, former MLA Satyanarayan Patel, Jai Hardia also addressed on this occasion. Saurabh Mishra conducted the seminar.